The building is the main mechanic in Blockate use by players to create their world. It is also used to grief worlds. You can build by pressing Q or B.
Modes
You can rotate mode by pressing B or Q. You can also use modes by clicking on backpack where there 2 icon.
Build Mode
Build Mode allows you to place blocks and allow you to change shapes of blocks, colors (Custom colors can be used if you have vip.), transparency (0.02 - 1), material, and size of the block (Full, Slab, Small, Pillar.). Also, you can change the Reflectance(0.01 - 1) of the block and turn off solid for the block. You can also change if block reflect light or not. Building Mode will give you ability to paint.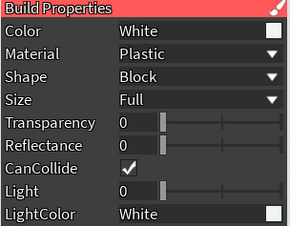 Paint
On the top right of the build menu, there is a brush which allows you to paint blocks. In paint mode you can toggle things to paint, such as Material and Transparency.
List of Shapes
Block
Wedge
Corner Wedge
Edge Wedge
Inner Edge Wedge
Truss (Climbable)
Cylinder
Inverted Cylinder
Quadrant
Corner Quadrant
Edge Quadrant
Inner Quadrant
Corner Inner Quadrant
Edge Inner Quadrant
Sphere
Pyramid
Cylinder Cap
Edge Sphere
Inner Edge Sphere
Seat
Spawn
Ball
Cube
List of Materials
Plastic
Brick
Cobblestone
Concrete
Glass
Corroded Metal
Diamond Plate
Fabric
Foil
Granite
Grass
Ice
Marble
Metal
Neon
Pebble
Smooth Plastic
Sand
Slate
Wood
Wood Plank
Force Field
List of Colors
White
Medium stone grey
Black
Bright blue
Bright violet
Pink
Bright red
Brown
Bright orange
Bright yellowish orange
Bright yellow
Bright yellowish green
Bright green
Quill grey
Mid gray
Dark stone grey
Really black
Toothpaste
Really blue
Royal purple
Hot pink
Really red
New Yeller
Lime green
Persimmon
Pastel light blue
Pastel violet
Pastel orange
Pastel brown
Pastel yellow
Pastel green
Pastel blue-green
Pastel blue
Medium red
Medium green
Medium blue
Earth green
Slime green
Bright bluish green
Deep blue
Dark blue
Navy blue
Parsley green
Dark green
Teal
Smoky grey
Steel blue
Storm blue
Lapis
Dark indigo
Camo
Sea green
Shamrock
Sand blue
Mulberry
Forest green
Grime
Fossil
Electric blue
Lavender
Eggplant
Sand green
Moss
Artichoke
Sage green
Cadet blue
Cyan
Alder
Lilac
Plum
Olive
Olivine
Laurel green
Ghost grey
Magenta
Crimson
Deep orange
Mint
Light stone grey
Light blue
Baby blue
Carnation pink
Maroon
Gold
Daisy orange
Cool yellow
Pearl
Fog
Mauve
Sunrise
Terracotta
Dusty Rose
Cocoa
Neon orange
Wheat
Buttermilk
Institutional white
Light reddish violet
Salmon
Tawny
Rust
CGA brown
Cashmere
Khaki
Lily white
Seashell
Light orange
Burgundy
Reddish brown
Cork
Burlap
Beige
Oyster
Brick yellow
Nougat
Pine Cone
Fawn brown
Sand red
Hurricane grey
Cloudy grey
Linen
Copper
Dark orange
Dirt brown
Bronze
Flint
Dark taupe
Burnt Sienna
Delete Mode
You can rotate to delete mode by pressing Q or B. In delete mode, you can delete blocks.